Finding the Right Level of Care for Your Loved One
If you're looking for an aging-in-place option for your loved one, you can trust our team of skilled nurses and licensed therapists at Bethany Village. We are experts in caring for older adults in their homes throughout the Dayton area.
As a non-profit organization, our focus is on supporting families through our commitment to faithfully caring about the all those we serve. We take the time to get to know each person's personal preferences and needs, and will provide healthcare completely tailored to them.
If you're interested in how our faith-based home health care programs can help enrich your loved one's life, please give us a call!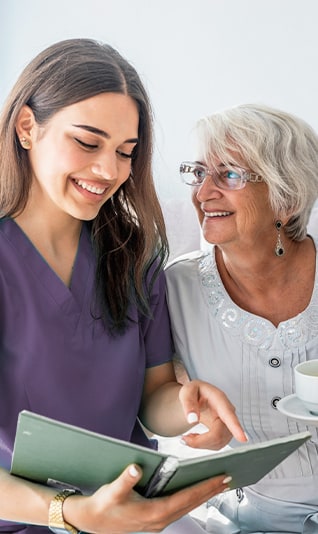 What Is Home Health Care?
We recognize that many aging adults prefer to stay in their own homes but may need a little extra help. Our skilled nurses and therapists provide home health care programs in your loved one's home.
With a commitment to providing faithful care, we strive to enrich the lives of our clients with compassion and companionship.
Whether your loved one needs assistance while recovering from surgery, or needs home-based support during a health change, our home health care team is here to help.

Our Home Health Care Services
At Bethany Village Home Health Care, we offer skilled nursing, licensed therapy, and medical social workers services so your loved one's needs are always met.
Skilled Nursing Services
Acute & chronic illness
Wound care
Alzheimer's & dementia care
Post-surgery care
Fall recovery & prevention
Vital monitoring
Infusion therapy
Cancer care & chemotherapy
Oxygen set up and support
Behavioral health & psychiatric nursing
Medical Social Services
One-on-one education about health and wellness, tailored to patients' needs, home routines and goals
Counseling for emotional or mental health concerns
Support with coping skills
Advocacy for patients, helping to communicate their needs and any issues that may affect their care to the healthcare team
Help accessing financial assistance and health insurance coverage
Referrals to helpful community resources (e.g., healthy meals, transportation or social outlets like a local senior center)
Help with planning for long-term care
Caregiver education and support
Licensed Therapy Services
Physical therapy
Occupational therapy
Speech therapy/Swallowing therapy
Get Started With Home Health Care Today
Home health care can help your loved one enjoy their life the way they're supposed to. Call us today and discover the non-profit, faith-based difference.

"I had a bad fall last year. When i came home, I had a hard time moving, so having therapy in my home was a blessing … they got me back on my feet. They also gave me daily exercises, so I stay strong."
Maria C., patient
"… [Bethany Village Home Health Care] did a better job than I ever could. The physical therapist could encourage her, and my wife would respond to her better than she would have for me… because they're the experts."
Vic B., spouse of patient
I was always impressed with the care the team provided my mother. They were so knowledgeable and always had great tips and ideas on how to help my mom deal with her limitations as well as regain her strength. I know my mother always looked forward to their visits. The team made me worry less and gave me confidence they would do all they could to help her.
Cathy L., daughter
"I did a Physical Therapy discharge for a client with many medical issues that needed a high level of care. [Our clinicians] Kathy, Jamie and Katie did a wonderful job with her and she has progressed well, meeting her goals. She would have likely been back in the hospital without our care."
Sandy, Physical Therapist with Bethany Village Home Health Care